P3Software processes over $250 million in print transactions in 2005
Innovative Procurement Solution Continues to Demonstrate Value for Print Buyers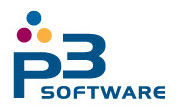 Natick, Massachusetts - February 17, 2006 P3Software, the leading provider of low cost procurement software for print, announced that their P3Expeditor system processed over 17,000 print jobs valued at more than $250 million in 2005. The P3Expeditor system streamlines the procurement process, reduces errors and saves print buyers time and money.

Commenting from the company's new offices in Natick, Massachusetts, President Caleb Tower notes, "We set out to develop a low cost software solution for print buyers in all types of organizations. Our numbers last year tell us that we have succeeded. We processed $100 million in transactions in 2004, so the quarter billion in 2005 represents tremendous growth and market acceptance."

Demonstrated Product Value
"We have become the fastest growing provider of print procurement solutions in the world. So far in 2006, we have expanded our workforce, moved to new offices and are gearing up for the release of two important product upgrades." notes COO Bob Yancich.

The P3Expeditor system makes use of the best industry practices for buying printed material, while streamlining the specification, quoting and tracking processes. Tower went on to comment, "Our growth is being fueled by many industry segments, from the Fortune 500, to non-profit organizations to educational institutions to print resellers of all types. These customers, large and small, quickly see the value of our solution and tell us they are especially pleased with its ease of use."

For additional information and a free trial of the P3Expeditor system, visit www.P3software.com or call 508-318-4587 x126 to speak with customer service.

About P3Software
P3Software develops and sells affordable procurement software for the print buying industry. Founded in 2001, the privately held company provides products to all types of corporations, graphic design firms, advertising agencies, educational institutions and print resellers. Products are sold through the company's web site and are available worldwide.
P3Software, Inc.

Press Contact: Bob Yancich

508-318-4587 x126
P3Software and P3Expeditor are trademarks of P3 Software, Inc.